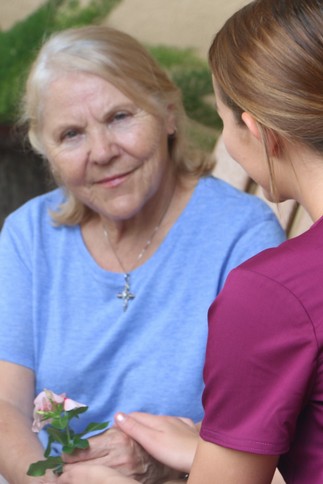 Are you interested in using our services? Read on to find out why people like you have been turning to Granny NANNIES for help for over twenty (20) years. Then, be sure to get in touch to find out more about what Granny NANNIES can do for you.
"It is challenging to manage a caregiver relationship for a parent from a thousand miles away. Granny Nannies' consistent communication and great attitude in conjunction with making THE EFFORT to find the right fit for my mom has made what was a great concern a real positive. Thank you, Granny Nannies!" -Peter H.
"Thank you so much for the wonderful "nannies" you sent to help care for my mother after her hospital stay. They were all so nice and considerate, well-trained and professional. If we ever need help again, I will be sure to call you, and will gladly refer you to friends." -Kem M.
"My children and I want to thank you for sending four lovely women to sit with our mother/grandmother during her final week of life. It was very reassuring to us to know she wasn't alone, and we could get our rest. All caregivers were caring and loving to my mother during this time and I greatly appreciate their presence. All were professional and provided excellent care. We were truly blessed to have met them during this time and can't thank all of you enough for all the support we were given."
-
Marilyn H.
"The capable and caring staff provides high quality, responsive service. Both to the client as well as to the family members. We highly recommend the company and the caregivers they provide." -Pamela A.
"At a time when we needed it so badly you gave us the support! You always did what you said you would do – with calls, information, and timing. I want to get this to you promptly because you deserve it – and your people are professionals. Thank you to your whole team. Easter greetings and blessings."- Stanley G.W.
"It's been two and a half years since we found you and we are very pleased with everything you do. Your staff at Nannies are kind and respectful to our mom. They make her feel special and treat her like an old friend."- Joan S.
"The services of Granny Nannies were a necessity. The choice of Granny Nannies above any other agency was my choice due to splendid references from friends. I am not disappointed."- Jeanne V. M.
"My husband and I retired from public education in Ohio and brought my elderly mother with us. She has many age-related issues i.e. hearing loss, macular degeneration, unsteady on her feet due to hip replacements, and arthritis in her spine. Our doctor's office suggested some home care, to help with exercise, showers, her personal needs, and Granny Nannies was recommended. It was one of our best decisions we've made while moving to Florida! I'll make sure my daughters call them when I need help in my older days! Love them!" - Susan M.
"Both caregivers have been with me on a long-term basis. Although they do not know each other personally, they run the hours efficiently – I have utmost trust in both and feel very fortunate to have their service."
-
James W. J.
"It has changed my relationship with my dad as Monica has made it easier for me and has been so good for and to my dad."- Sandra S.
"Valerie is my family's angel! She looks after my mom's daily needs and keeps us informed on her day. I relax when I know Valerie is with my mom."- Joan L.
"Granny Nannies was a big help in taking care of my mother who has dementia. She was well taken care of by Barbara and made it easy for my wife and I to socialize at our daughter's wedding. We highly recommend Granny Nannies."- John and Mamy E.
"Great Company!"- Cathy S.
"Granny Nannies has provided my dad to enjoy life at home in his golden years."- Robert H.
"It's been a year now that your wonderful nannies have cared for my mother. We all feel they have become part of our family. They are so caring and attentive, punctual and professional. Because of them, we all can sleep at night knowing she's in good hands."- Marnie F.
"Our family is very pleased with the staff you have sent over. They are very patient and professional. Thanks so much!"- Joan S.V.

"Granny Nannies provides an invaluable service with superior people!"- David H.

"In a day and time where people unfortunately don't seem to care about quality, Granny Nannies is definitely the exception to the rule! Thank you for such a wonderful experience."- Toni B.
"Granny Nannies, and more specifically Kat, dad's caregiver, is a true blessing for us. Kat is extremely attentive, efficient, conscientious, and dedicated. She constantly goes above and beyond in her job duties and for that we are so grateful. We do not worry about dad's comfort, safety, and needs while Kat is on the job! She has been an unbelievable comfort and an integral part of dad's life. Thanks."- Joan M.K., daughter
"Gladys was very nice and everyone I have talked to in your company has been GREAT! I have referred your company several times now." – Patricia M. A.
"The assistance I receive is very good. They pay attention to my health issues, help around the house, are good companions." - Judith W.
"Everything was extremely professional. The ladies that helped my mother really cared. Thanks." – D. F.
"We are grateful for the excellent care & patience of our caregiver, Mary. Granny Nannies was one of a few agencies we searched out during our move to Florida last September & we are very pleased we chose them!" -Dina L. R.
"Very helpful in our time of need." – Dana E. C.
"The caregivers made a very difficult situation as nice as they could and took excellent care of my mom." – Michelle M.
"Very nice caregivers who showed a lot of compassion for my mother." – Cynthia H.
"I don't know what I would have done without the professional caring folks like Raymona and the staff at Granny Nannies. They made adjusting to life after Dad's stroke much smoother for me as his family caregiver. They care as much about him as I do." -Jenna K.
"I am very pleased with the caregivers. They are always willing to help me when I need it." – Jane L. M.
"They have helped me through many situations, both personal and in my care – above and beyond - their teamwork." – James W. J.
"We are very satisfied with our loving Granny Nanny, Dianne. She is the perfect addition to our family. We are truly blessed! My mother is now in the hands of a caring, loving Granny Nanny angel! – Debora C. W., Volusia County Teacher
"Chris is very good with Frank, is a very caring caregiver." – Carole C.
"Cindy has exceeded in every way." – Glen C. T.
"Granny Nannies services have helped me to be more secure about living alone and in a wheelchair. I do depend on their caring professionals "being there." - Jeanne V.D.M.
"Granny Nannies has afforded me peace of mind that I have not experienced in years. Knowing that someone is there with my mom on a daily basis while I am 1,000 miles away is priceless." -Peter H.
"My wife and I have enjoyed the fine services from 3 of your nannies with excellent results over eight months' need. Their versatility and resourcefulness have been outstanding." – Donald & Joanne O.
"The house was clean, neat, and orderly when I was there in April. I appreciate the extra effort Carol and Connie put forth in keeping Ruth physically active. Ruth appears to be eating very well – which was good to see!" – Eugene C.
"Debbie provides most of Mother's care and is an absolute angel! She cares so much and always puts Mother's best interests first. She is loyal, dependable, observant, and very knowledgeable about how to provide the best care and companionship. Debbie is the main reason I can sleep at night, knowing Mother is in such good hands. Thank you!" -Marlyn M.F.
"Kathy is wonderful, and Granny Nannies' management has always been very helpful and responsive to our needs." -David L.
"I have recently moved to FL from another state where I had similar service. "Similar" does not describe the service AND caring I am receiving with the Granny Nannies here!! They are outstanding. Every day is another welcome to FL and Granny Nannies." -Louise S.
"My experience with Granny Nannies has been positive 95% of the time. I have one "nanny" who for four years, has taken care of me over and above the call of duty and, at the same time, has been a "best friend." - Jeanne M.
"Tamera has been with me for eighteen months, and she meets my needs very well. I'm happy I can stay in my home with such professional help." - Ellen B.C.
"Our Granny Nannies have been wonderful! The thing that makes them special is that they really care." - Charlie C.
"I can't thank you enough for all of the fantastic care you provided for my dad over the last 8 yrs. So many incredible people took such good care of my dad & enabled him to live out his days where he most wanted - at home. It also provided me & my family with peace of mind, the ability to carry on our daily lives as much as possible, and a great chance to meet more lovely caring people. Thank you so much for the wonderful work you all do."- Amy M.